Trusted by Professional Athletes, Trainers and Teams
Trusted by Professional Athletes, Trainers and Teams
Australia's Leading Premium Ice Bath
Australia's Leading Premium Ice Bath
Always cold always ready
Chills to 3°C
Indoor/ outdoor
UV light filtration
Transform your Life
with Ice Baths
Chills to 3°C
Compatible Indoor & Outdoors
State-of-the-art Cleaning & Sanitation
Easiest way to add Cold Exposure to your Day
Why take the PlusLife Ice Bath?
Endurance and Resilience
There's nothing quite like the shock of an ice bath. Your body is resisting, your mind is telling you no but once you take the plunge you will be rewarded! You are taking control and showing your mind and body who is in the driver's seat.
Physical Recovery
Feeling sore after a high-intensity training or workout session? Improve your recovery time and get back into action faster!

Research has proven that Ice baths reduce inflammation, recovery time and muscle soreness that comes from all forms of physical activity.
Mental Health
Cold exposure connects you to your breath and body. Once you are over the initial physical resistance of the ice bath, PlusLifers report a calming state where they can get into "the zone". Cold Plunging also assists in providing a natural release of endorphins resulting in an uplifted mood that they bring with them throughout the day.
Health and Wellness
Ice Baths have been scientifically proven to improve your immune system, performance, and general wellbeing. Cold exposure stimulates your body to increase its energy and boosts your metabolism for weight loss.
Discipline and Consistency
An underrated benefit is Cold plunging develops grit within you, knowing that you can drown out that inner voice that is trying to talk you out of doing what you know is good for you. The PlusLife Ice Bath helps you form a powerful daily habit that you can bring with you throughout the day.
Sleep Management
When your body is exposed to extreme cold response it triggers a quick melatonin release. Shocking your system with an ice bath and experience a new level of deep sleep like never before.
Always Cold. Always Ready.
The PlusLife Ice Bath chills down to 3°C and is ready at a moment's notice.
My PlusLife Ice Bath is part of my morning routine, it gives me a much bigger jolt of energy than a coffee and by intentionally putting my body through extreme cold exposure I know I am ready to face anything the day throws at me.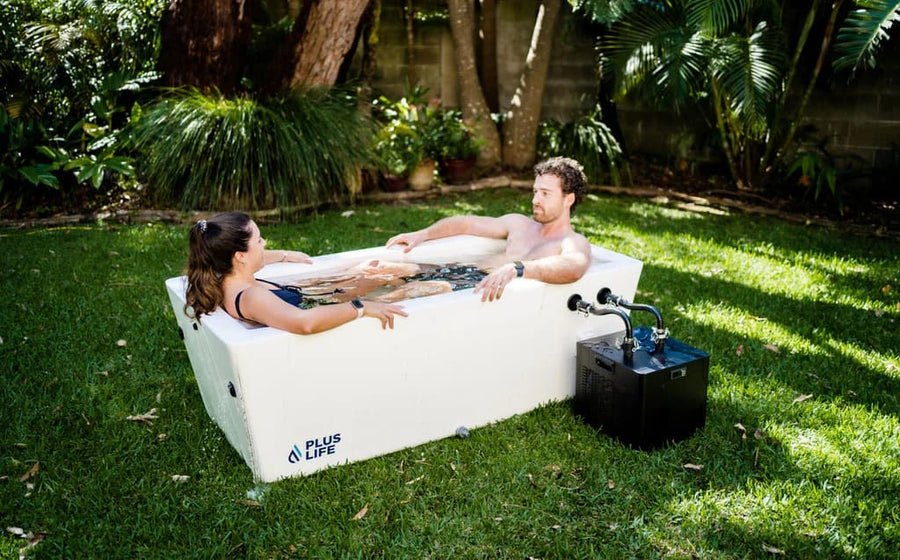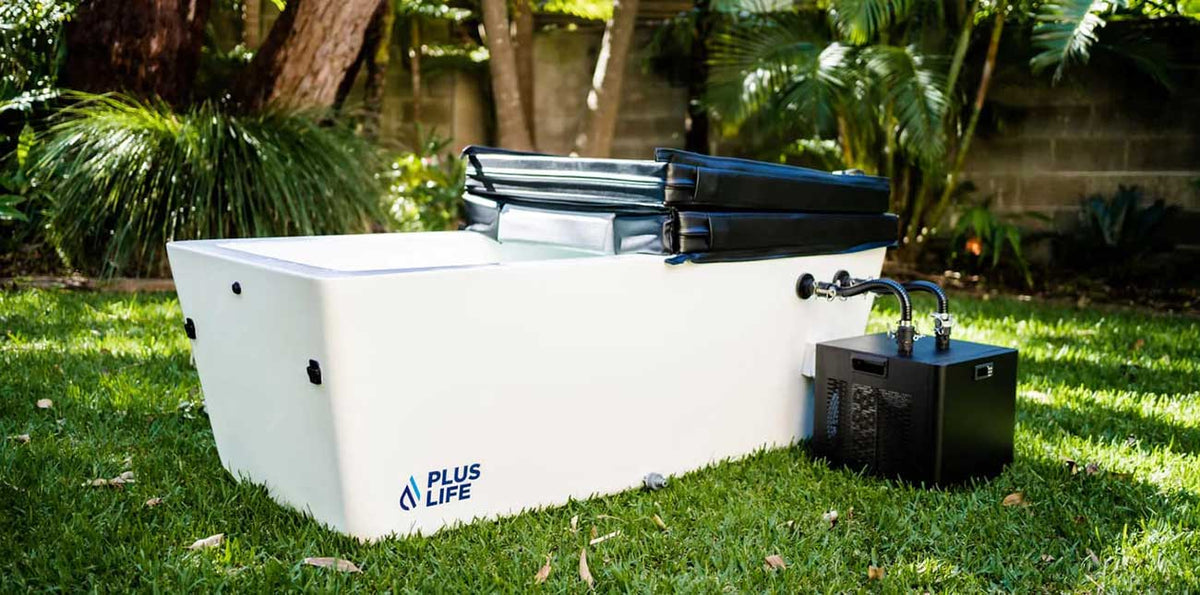 PLUSLIFE ICE BATH.
For your Home.
PlusLife
commercial
ice bath.
For your Gym, Wellness Centre or Sports Club.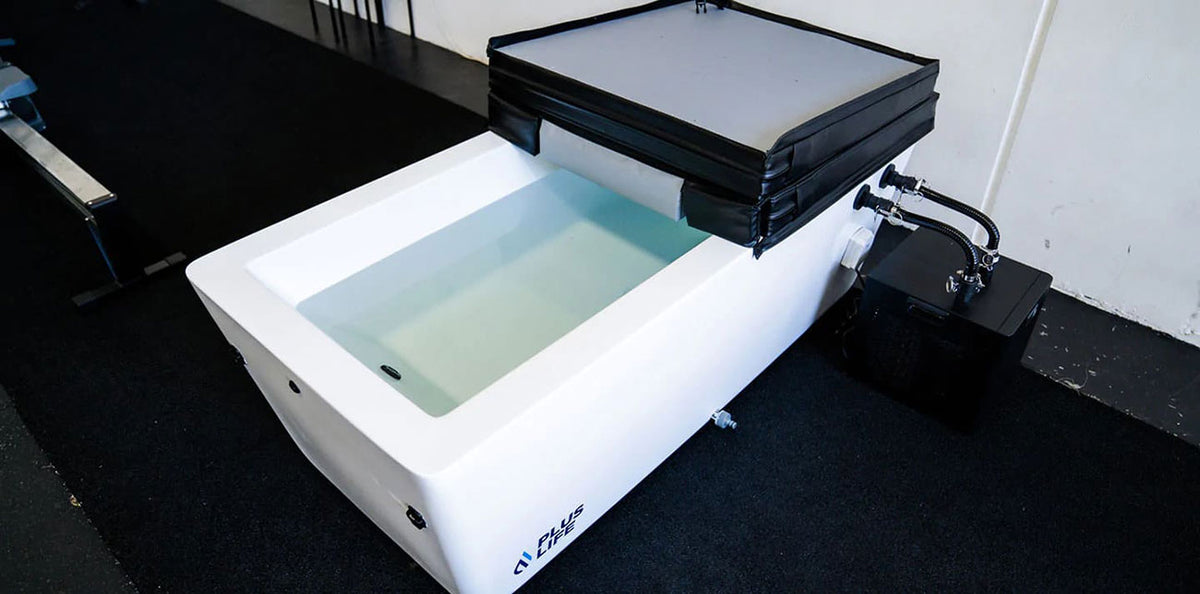 What Customers Are Saying
I'm a pro athlete and muscle soreness and inflammation had almost always been a part of my life. Not until I used PlusLife. It's the most effective ice bath I've used so far. Nothing compares to this. What a really cool addition to my daily ritual. Highly-recommended!

Steve, Sydney
My stress and anxiety during this pandemic have doubled being a wife, business woman, and mother at the same time. Ever since I started using this, I love waking up and reconnecting with myself. The cold plunge, I believe, changes my life. It relieves my stress and clarifies my thinking, which is really huge help for people like me.

Amanda, Melbourne
I love biohacking with my active lifestyle, so I am always on the lookout for ways to improve function. I love how this PlusLife Ice Bath does that exactly. I recommend it to everyone who wants to achieve the same goal. It's worth it.

Tim, Sydney
Protect your Ice Bath
Every Ice Bath comes with a 1-year manufacturer warranty out of the box.

PlusLife Health also provides a 100% Satisfaction Guarantee. If you aren't 100% satisfied with your Ice Bath,
you have 30 days to return it for a full refund.
Frequently asked questions
You can set the temperature directly on the PlusLife Chiller Unit or Download and use our dedicated Android or iOS app to set its temperature.
Peak performers, health and fitness enthusiasts, entreprenuers, amateur and pro athletes, biohackers and anyone who puts their health and wellness on top of their priority.
It's covered by our no-hassle 12-month warranty. More information is available within our Terms & Conditions.
No ice bags needed, state-of-the-art filtration, instant access to ice cold water. It's a plug-and-plunge system built with UV light and filtration systems for sanitation and safety. It's effective for its consistent temperature and all-weatherproof built.
Yes! Please contact us for copy.
Its filters can last up to six months, or shorter if you use it often. Filter should be replaced as needed based on usage level. To extend the filter's life, we recommend taking a shower before using the ice bath.
You can put it inside or outside. If placing it outside permanently, use its included cover and put it in the shade for energy efficiency especially in the hot weather.
We suggest using it daily, but we understand that everyone is different in terms of cold immersion tolerance. Over time, you can build tolerance, but we recommend starting with a temperature you can comfortably tolerate.
Yes, the PlusLife Ice Bath is built with a quick-drain system that you can attach to a standard garden hose. When done, refill your tub and leave it for a while to reach the desired temperature.
There's no set standard time for this. It depends on your tolerance. But on average, our users do it for three to five minutes. We recommend to use for no longer than 5 minutes as a maximum.
We offer an Express Service which reduces the production time to 4 weeks. This has an additional 20% surcharge which is payable at the time of ordering. Please note this is subject to availability and production capacity. Please
contact us
to see if this is available.
Our PlusLife Ice Bath weighs approximately 350-400kg when filled with water.
As seen in